The streetwear and denim forum within Styleforum started in large part because I wrote a "10 Best Jeans" post years ago, in the days when "premium denim" was blowing up in LA and the North American Market was just starting to get imported jeans from Scandanavia and Japan.  In those days, the threads were named "5 Best jeans," or "10 Best jeans," but it's really impossible to make a superlative list in such a varied category, so I always tried to make these representative of different styles and needs rather than pointing to one model and saying "Yeah, best jeans right there."  I do think that the below is a representative list of "best in class" jeans.  Of course, it's like the 100m dash (or at least, the 100m dash, pre-Usain Bolt).  There are many contenders for the #1 spot, and the winner is usually the first among peers.
This is the first such list that I am writing for the Styleforum Journal, so I've chosen the below 5 great jeans with a nod to the past and a eye on the future.
---
Best wearable art – Kapital Cisco Century Jeans, $375 at www.standardandstrange.com
Kapital is perhaps the exemplar of the "mythological folklore by way of Japan" brands, and there are many.  It borrows liberally from Native American imagery, old military uniforms, American workwear, the clothing of some tribes that may or may not exist outside Kapital's famous photoshoots, and mashes them up with Japanese textile traditions like boro patchwork and sashiko stitching.
Kapital's cinchback "Cisco" jeans are made from Kapital's "Century" denim that has been dyed using the kakishibu method, with fermented persimmon juice to produce a deep brick color, and then sashiko stitched using indigo thread.  They are a good (and not inexpensive) example of the combination of Japanese and American clothing and textile traditions and the brand's general obsessiveness with their production process.  They were first introduced in 2012, but have been popular enough to be kept in the list of "best ofs" that seem to accompany each of Kapital's collections (other best of Kapital pieces include their moleskin ring jacket and their Old Man and the Sea caps).
---
Most comfortable heavyweight jeans – The Ironheart 17 ounce straight tapered jeans, $295 at www.selfedge.com
I've owned and worn many jeans that range between "heavyweight", usually defined as 16 ounces and above, and "monster weight", which is my personal term for anything about 20 ounces (per square yard).  To put this into perspective, most military tents are made from 12-14 ounce canvas, and lighter weight stretch jeans are often about 9-10 ounces.  It's rare that I'd call any heavyweight jeans the "best jeans," but of all of these, Ironheart makes the most comfortable.
Kiya, who owns Self Edge – one of our oldest advertisers – once told me that this is because they use the longest staple yarns, even longer than do luxury brands, which gives the jeans a cool feeling, and because they use a cold water rinse, instead of the usual, hot, industrial rinse,  Back in the day, the consensus on Styleforum and other forums was that you had to (physically) suffer for the perfect fit, that the first few weeks of wearing jeans three sizes small was a trial by fire to be endured for excellent fades.  Luckily for us all, that insanity is behind us.  Also, I am way too old for that now.  I need my jeans to slip on and off effortlessly.  This is especially important in heavier weight jeans.
---
Best "Starter" jeans – The Japan Blue tapered model, $220 at www.blueowl.us
If you want a pair of jeans that fits well, is neither too slim not too loose, is neither too heavy nor too lightweight, neither very high rise, nor very low rise, and without features like a drop crotch that will date it easily, and will generally stand up to the test of time, Japan Blue's "Tapered" model is a good choice.
The cut is mid rise, with a slowly tapering leg.  They come in a variety of denim weights and types, and I've seen them worn in "full workwear", and as part of our editor in Chief's indigo patchwork outfits, and I wear them as part of what was once called my "killer cowboy" style, but that I suspect might be considerably less romantic and cool.
While "versatility" of often code for "really boring", Japan Blue rescues us by using very interesting denim on any otherwise fairly standard, well made, jeans that lack the bells and whistles of jeans by its sister brand, Momotaro, both produced by the Japan Blue Group.
My favorite are in indigo warp with a black weft, and tonal stitching, made in an unsanforized version of Japan Blue's "Monster" denim, exclusively for Blue Owl (shown above).  They are heavier than most like their jeans, but don't worry, there are many lighter weight jeans in the same cut.
---
Best skinny jeans – Saint Laurent Paris low rise slim fit black jeans, $290 at www.ysl.com
I heard a story about Jim Morrison once – that he was a skinny, awkward kid with a crew cut, and that over a summer in California, he grew out his famous mane and transformed into the Lizard King.
This is the revenge of skinny, awkward, teenagers everywhere on the world.  According to recent polls, 95% of all models, male or female, report having been "awkward and nerdy" as teenagers.  (the remaining 5% were jock douchebags – sometimes life remains the same).
If you still have the chops to look like a young Axel Rose (as opposed to the much less attractive 50-something middle-aged Axel Rose), you might want to go for Hedi Slimane's (they are still his) Saint Laurent Paris jeans, that make his Dior Homme era jeans look baggy and overly comfortable.  How times and our perceptions have changed.
---
Best Discount Jean – Uniqlo slim fit selvedge denim jeans, $49.90 at www.uniqlo.com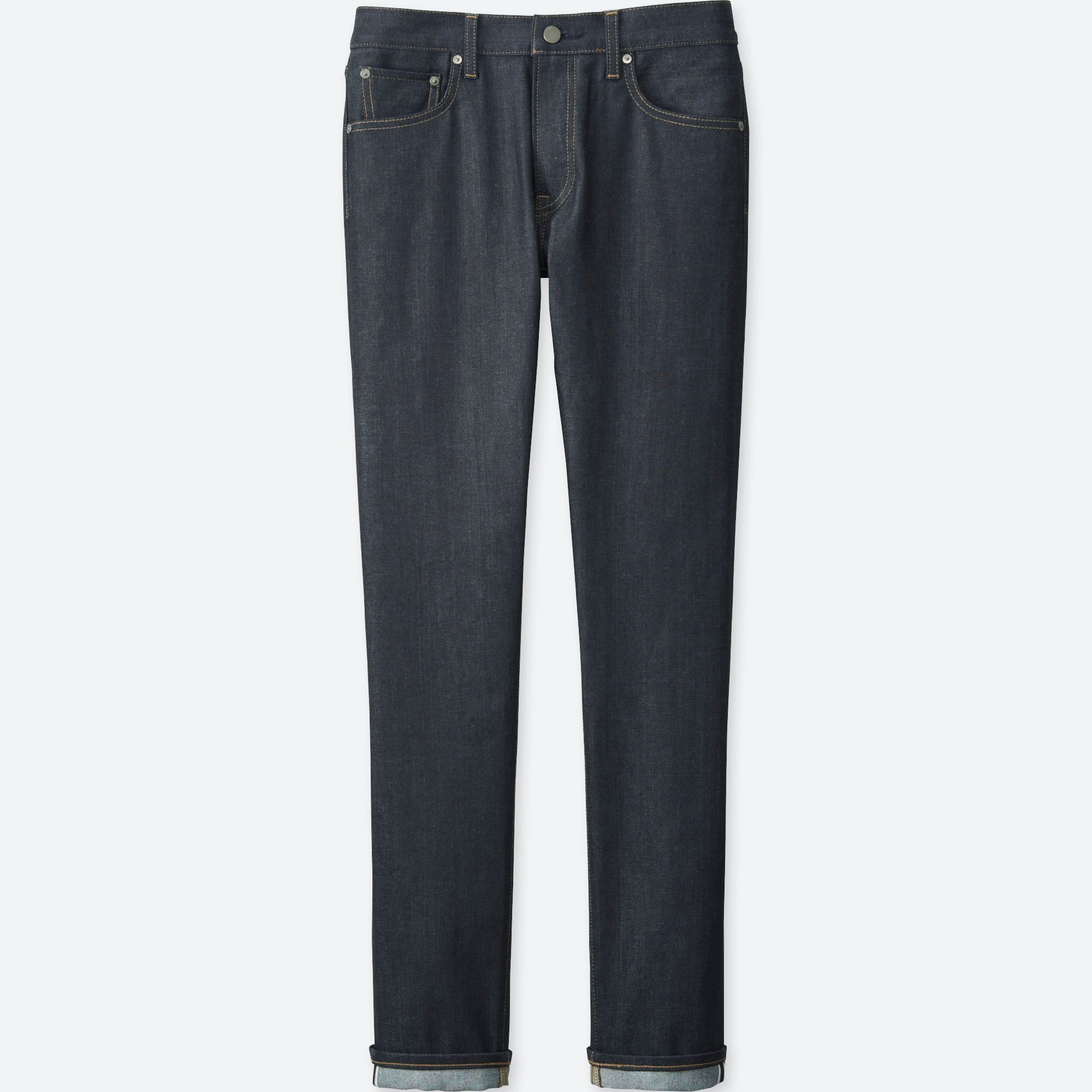 Over the years, on Styleforum, one of the most commonly asked questions, was "What is the best selvedge denim (jeans) for under $100?"  For a while, there was not much at that price range.  During the era of the $300 jean, you could either go to your local Sears for standard Levis, or you could shell out.  Or you could try to get your friend who was living in Japan to buy and send you a pair of Uniqlo selvedge denim jeans.
These days, particularly with the advent of the direct-to-consumer model, there are many more choices, but the under $100 beacon jean for all those years still remains also the standard bearer.  Of course, these days, there is no need to wheedle a favor out of a friend visiting Japan.  If you can't get to a Uniqlo in person, it's only a few clicks away.  At $49.90, the Uniqlo slim fit (these days with a bit of stretch) give a good fit and very passable construction.  If you want 100% cotton and a more relaxed fit, the "normal fit" is also available for the same price.  Both look good on, and age reasonably well.
Are they the best jeans for under 100$? They're bare bones, to be sure, and all the bells and whistles of the higher end Japanese brands are not there, nor are you likely to develop one of the very distinctive fade patterns of hardcore denimheads, but at just under $5o, you can't do better.
The following two tabs change content below.
Fok is an owner of Styleforum. He abuses his authority regularly. Once, he persuaded Arianna to eat a chalupa, something she will never forgive. He wears heavy leather and denim, just in case the zombie apocalypse starts when he is writing an article.
Latest posts by Fok-Yan Leung (see all)